EDM and Die Component Manufacturing
Applications to Solutions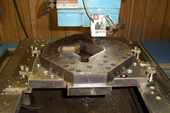 Punches

Die Blocks

Stripper Plates

Punch Holders

Fixtures & Gauges

Keyways

Hardened Tool Steel

Any Metal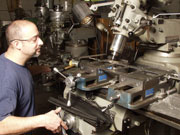 Atlas Tool Works, Inc. offers a variety of Electrical Discharge Machining (EDM) services backed by 26 years of experience. EDM is one of the most precise methods of cutting metal available today. Tolerances of +/- .0002" can be held on each of our wire and sinker EDM machines, which can accommodate parts both large (maximum height of 16" and table travel of 16" x 32") and small.
Our comprehensive precision EDM services include:
EDM Drilling and Tapping

Sinker EDM

Small Hole EDM/Hole Popping

Large Part EDM

Production EDM
Wire EDM is the method of choice for stamping die components. It can also be used on production applications when accuracy and precision are critical. Atlas can cut nearly any conductive material, and turnaround times can be scheduled to meet your needs.
Sinker EDM is the method of choice for difficult to machine materials and features that cannot be machined any other way.
Advantages and Benefits
Wire EDM
Tight tolerance through holes and cutouts
Square corners and shapes that can't be machined
+/- .0002" or better is achievable
Tapered holes and slots
Sinker/ELOX EDM
Unique Cavity Shapes
Sharp Internal Corners
Small Holes
Works for any conductive material and some non-conductive material
Difficult to machine material
We have over 90 years of experience building stamping and forming dies. Our complete, modern tooling department provides additional value added die manufacturing and die maintenance services including:
Grinding
Turning
CNC machining
Heat treating
Sharpening
Lapping
Die components
Automation components
Full tooling builds
Tooling repairs
Die assembly
Click an image below to enlarge.