Machining and Turning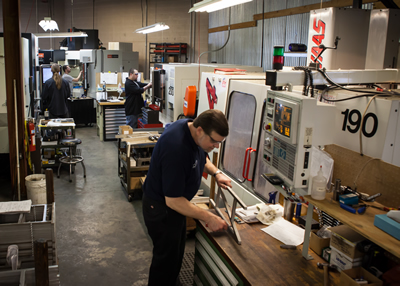 Atlas Tool Works provides multi axis precision machining capabilities to customers in a wide array of industries that require tight tolerance components and assemblies. Our multi axis machining centers and expert operators provide for the machining of complex shapes and part configurations from a broad range of materials. Additionally, we will provide expert guidance with regards to other machining considerations including part holding/fixturing. 
We routinely hold tolerances of +/- .0005" and can grind to even tighter tolerances. We are experienced working with some of the most difficult to machine materials including: Inconel, precipitation hardening stainless steels like grades 17-4, 13-8 and 15-5, and 304 Stainless steel. We can hard mill and hard turn materials in any heat treated condition, even when hardness is above Rc 60.
Multiple Axis Machining Centers In-House
3 axis machining
4 axis machining
8 axis turning / machining
Manual milling
Extremely large part machining available through strategic partners
Turning / Lathe Work
Turning + Milling (Mill/Turn)
Mill/turn = lathe with live tooling (milling/machining) + movement/travel in multiple axis for milling.
Dual Turret and Dual Spindle Mill Turn Machines for complex parts done in one operation
Turned parts with milled features in one setup
Click an image below to enlarge.